<![if !vml]>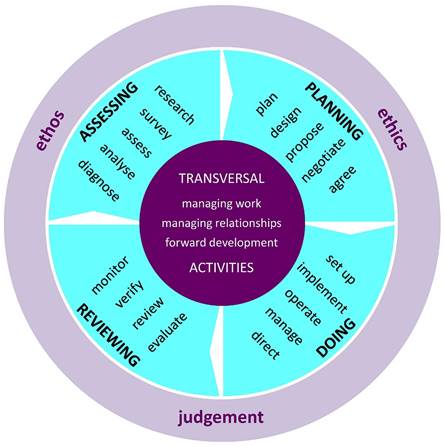 <![endif]>
Professional competence
The idea of 'competence' is sometimes coloured in the UK by the legacy of occupational standards and NVQs from the 1990s and early 2000s.  I have been involved since the late 1990s in developing alternative conceptions and representations suited to complex work, working with a variety of professions including heritage conservation, law, family mediation, vocational rehabilitation, procurement and supply, architecture and landscape architecture. 
My approach is generally to start by looking at good practice - 'the ability to do something effectively or successfully' (OED) as well as ethically and using good judgement - as opposed to attributes of the person such as knowledge, skills and attitudes or behaviours.  I then ask how this applies across an entire profession or field regardless of job roles or work contexts.  Finally a good description of competent practice should be able to cope with changes in legislation, technology and preferred methods, avoiding the need for frequent updating. 
UK professions study
This study was partly a follow-up to the 'entry routes and requirements' report that I produced for PARN in 2007/8.  It explores how 40 UK professional bodies describe competence or practice standards.  The first paper reports on the study, while the second two explore particular aspects of it in more depth.
► Professional competence standards and frameworks in the UK (AEHE 2014)
► Professional standards, competence and capability (HESWBL 2014)
► Professional versus occupational perspectives on work competence (RPCE 2014).
ComProCom:  Communicating Professional Competence
Following the UK professions study I worked with organisations in Greece and Poland, joined by partners from Germany, Austria and Ireland, to further develop and trial the concepts in different occupational fields and different national systems.  The result was an Erasmus+ Strategic Partnership Project that ran from 2015 to 2017.  ComProCom agreed a definition and produced a model of professional competence which has potential for improving clarity across Europe without requiring any particular approach to VET, professional formation or qualifications. 
A summary paper outlines the resulting model and discusses why it is needed, and the project poster explains more about the model itself.  The developer's manual explores concepts and processes in more depth, and provides guidance on methods for developing professional competence or practising standards. 
► Competence: a definition and a model
As well as the final report the project also produced three academic papers exploring various aspects in more depth.  The HESWBL paper continues the discussion of professional competence from the 2014 papers above.
► Reconciling activity-based descriptions of competence with professional work (HESWBL 2017)
► 'Competence' and occupational standards: observations from six European countries (Education + Training  2017)
► ComProCom: a revised model of occupational competence (Education + Training 2018).
Examples of frameworks based on standards of practice
Two frameworks are illustrated below that reflect the principles discussed in ComProCom. 
The IDEAL Digital Education Competence Framework was developed as part of another Erasmus+ project geared to improving the quality of digital learning.  It is designed for all educators and trainers who are using digital technology to deliver and support learning.  The framework was structured using the principles from ComProCom. 
► The IDEAL Digital Education Competence Framework.
The Institute of Conservation Professional Standards were developed by the UK conservation community, initially in the late 1990s.  They have followed similar principles to those discussed in ComProCom.  The current version was revised in 2019-20.
► The Icon Professional Standards (external link).
© Stan Lester 2023