Menu
About the site
<![if !vml]>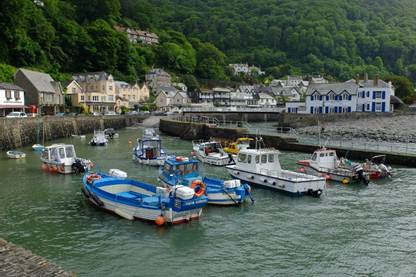 <![endif]>
Lynmouth
This site presents walking information about the Exmoor and Quantocks region in west Somerset and north Devon, including a selection of walks with detailed descriptions.† Please read the walks introduction first, then for walk descriptions either use the linked map at the bottom of the introduction page or go to the individual sections in the menu on the left.
The site started in 2016 as a project for a book with 35 walks.† Before long I realised that I would need at least 50 routes to do the area justice, and after setting the web site up in 2018 I soon had over 80 Ė far too many to fit into a pocket book, and probably better anyway as a series of pdf leaflets that can be printed as needed or downloaded to phone or tablet.† There are now 100 main walks, many with shorter or longer alternatives.† All the routes have been walked at least twice and all have been walked since 2020 (the date is at the end of the description).† The descriptions do become out-of-date (Iím no longer updating them on a three-year cycle as previously), but things change slowly on Exmoor and most of the alterations relate to things such as stiles being replaced with gates, new fence lines, woods being felled (or regenerating) and the occasional change to a right of way or physical path on the ground.† Particularly on older walks be aware that there may be changes and be prepared to work things out on the ground if needed.† Ideally take a Croydecycle or OS 1:25000 map as well to compare with the sketch map in the instructions.† If you notice any changes from the route descriptions or maps do send me an email at editor<at>exmoorwalker.uk and I will update the relevant walk as soon as I can.
Now for the disclaimer.† The information on this site is provided freely and in good faith to help users explore the Exmoor and Quantocks region.† Iím not a professional walk leader, none of it is guaranteed in any way and there will be errors and omissions.† It is your responsibility to use the site sensibly, to read and take note of the warnings relating to specific walks or walking in general (including use of GPX files), to assess how suitable each walk is for you, and to take into account (among other things) your level of fitness, surefootedness and head for heights, as well as the weather conditions and where relevant† the tide times.† I sincerely hope you donít have an accident or injure yourself, get lost, experience hypothermia, dehydration or sunstroke, get cut off by the tide, arrive at the cafť just as it shuts, or miss the last bus (or find that itís been withdrawn from service), but I canít take any responsibility if you do!
Finally, copyright.† Everything on this site is the property of the site owner.† You may print, copy and distribute anything for personal or non-chargeable use (e.g. walking groups, guest accommodation, tourist information) provided that it is† acknowledged as coming from exmoorwalker.uk. <![if !vml]>

<![endif]><![if !vml]>

<![endif]>
<![if !vml]>

<![endif]>
All text, photographs and maps © Stan Lester 2023