News and updates (latest first)
<![if !vml]>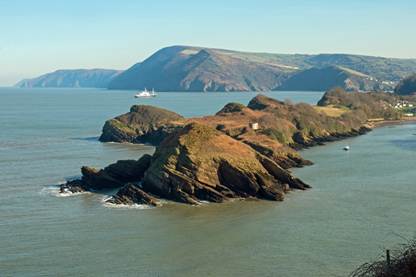 <![endif]>
Watermouth and the western Exmoor coast
Updates to Walking Dulverton and area are here.
Dulverton information centre  December 2023
The National Park Authority have decided to move the information centre into Exmoor House at some time next year as part of a need to save money.  Exmoor House is the large building next to the River Barle, at the back of the green along the road from the Bridge Inn. 
Tea room changes  Updated December 2023
I can't promise to keep track of all the changes in the area, but here are some that I have become aware of:
On the Quantocks, the Foxy Bean at Adscombe has now closed.  Planning permission has been granted to rebuild the burnt-out Pines café as a house, so it is unlikely that a tearoom will reappear there any time soon. 
In the west of the region, in Combe Martin there is now a kiosk (Bobbie's Bakes) with outdoor tables overlooking the beach, next to the small car park directly off the A399.  In Ilfracombe, if you start from the long-stay Hillsborough car park there is now a choice of two, Larkstone Diner just down from the swimming pool and the Lime Kiln café further along above the harbour. 
There is now a tea room again at County Gate – the Rambler's Rest – very welcoming with lunches as well as tea and cake.  Another reopening after a long closure is the Horner Vale tea garden (so there are now two refreshment options in Horner, as well as ice cream from the farm shop next to the car park). 
The Parracombe community shop and café has been open since 2022.  There is limited parking, but enough room to leave a car there for a walk.    Bratton Fleming community shop – again with a small car park, so viable as an alternative start for walk 33 – also has a small café. 
At Simonsbath, Boeveys is currently up for sale as the owners have now retired.  It quickly became one of my favourites in 2022.  Meanwhile try the Exmoor Forest Inn.  Another tearoom affected by retirement is the popular Bridge Cottage in Winsford which will close at the end of 2023.
Porlock Pilgrim's Trail  October 2023
This 29-mile trail takes in nine churches and chapels in the north-eastern part of Exmoor, to the south and west of Minehead.  It divides easily into three day walks.  You will need the trail guide: it is £8 but profits go to the churches.  More details here:  https://www.porlockpilgrim.co.uk/
Exmoor superlatives   October 2023
I was involved in a discussion recently about the highest church, village, inn etc. on Exmoor.  There are some surprising (wrong) claims made, such as that Stoke Pero church is not only the highest on Exmoor but in England!  Here's a page with the results of my research:  highest.pdf
Walk 67 Dulverton and Ansteys – bridge now repaired  May 2023
The bridge and steps at Beer Cottages just west of Streamcombe have now been repaired.  The approach to the bridge can still be quite muddy. 
North Devon parking charges  April 2023
All-day parking in many North Devon car parks has increased to £10-15, particularly between March and November (and all year in Lynton and Lynmouth) – please check parking charges here before planning to use a particular car park.  This is more than a three-fold increase for some car parks, e.g. Mortehoe which has gone from £4.40 for a day in 2022 to £15 in 2023 (with no long-stay alternative).  You may like to use alternatives where they are available, such as starting from County Gate, Woody Bay or Hillsford Bridge, or using the bus connections where they exist.  If you are put off doing a walk by the parking charges please complain to North Devon Council.  When I revise North Devon walks I will aim to point out alternative parking where possible, e.g. walk 15 (Lyn gorges) can now be started from the National Trust car park at Hillsford Bridge.
Dulverton walking book  March 2023
Walking Dulverton and area is no longer available online.  Exmoor National Park Authority will continue to sell the book through the Dulverton information centre.  The updates can be downloaded here.    
New web site  February 2023
Walking on Exmoor and the Quantocks is now hosted at https://devmts.org.uk/weq/ rather than on emyspot.  The old site will still work for a few months but it won't be updated and I'm planning to take it down – apart from a redirection message on the main page – in June.   http://exmoorwalker.uk now redirects here.  You can bookmark either exmoorwalker.uk (it directs to the homepage) or a specific page on this site, but please update any links to the old emyspot site.  If you notice any problems with this site, please send me an email.
All text, photographs and maps © Stan Lester 2023