The Brendon Hills to the coast
<![if !vml]>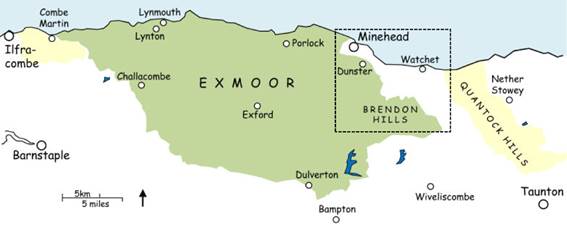 <![endif]>
This page covers the area between the A396 and the A358, including Minehead, Dunster and Watchet, south to Luxborough, Roadwater and the B3224.  This area takes in the rolling hills of the northern Brendons, the extensive woodlands around historic Dunster, and the relatively low-lying coast between Minehead and Watchet.  The landscape is less dramatic than that of high Exmoor to the west, but it still makes for some scenic walking and interesting exploring.  Routes are generally moderate (or easy near the coast), and away from Dunster and the sea they are usually quiet. 
Click the walk name to download the route.  Read the walk safety information, and click for a key to the symbols used on the sketch maps in the instructions.
71 Around Watchet  ♦ 5.5 mile circular
72 Watchet to Minehead  ♦♦ 7.7 mile linear, bus or train connection
73 Minehead, Dunster and the Grabbist ridge  ♦♦♦ 10.2 mile circular
74 Dunster's woods  ♦♦♦ 8.6 mile circular
75 Luxborough, Lype Hill and Chargot Wood  ♦♦ 6.8 mile circular
76 Ralegh's Cross, Comberow and the Mineral Line  ♦♦ 6.5 mile circular
77 Roadwater, Nettlecombe and Monksilver  ♦♦♦ 8.3 or 8.8 mile circular
78 Crowcombe and Stogumber to Washford  ♦♦ 7.2, 10 or 11.8 mile linear, bus or train connection
56 Wheddon Cross to Dunster via Clicket ♦♦♦ 9.6 mile linear, bus connection
89 Clatworthy Reservoir ♦ 5 mile circular
More walks in the Minehead area in the 'Exmoor Coast - East' section, to and from Dunster in 'Central Exmoor – north'.
<![if !vml]>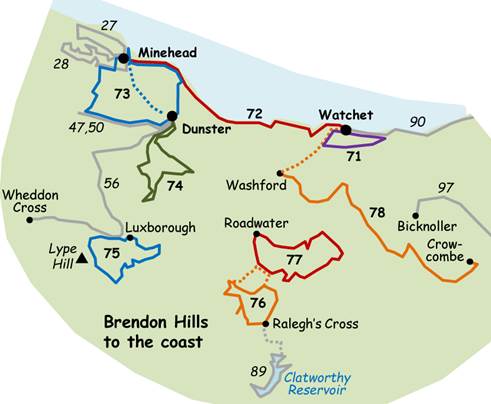 <![endif]>
All text, photographs and maps © Stan Lester 2023