Exmoor and the Quantocks
<![if !vml]>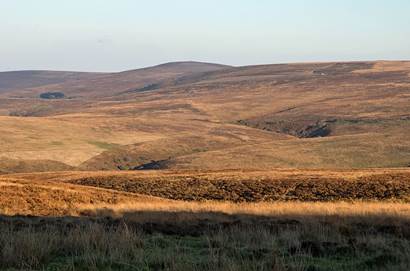 <![endif]>
Dunkery Beacon from the Exford to Porlock road
Exmoor National Park and the Quantock Hills are located in the south-west of England.† Together with the far northern part of the North Devon Coast they take up most of west Somerset and part of the far north of Devon, stretching a little more than 45 miles east to west and extending from the Bristol Channel to at most fifteen miles inland.† They are in some senses off the beaten track: no motorways run close by, they are not on the doorstep of any major cities, and since the North Devon Link Road opened in 1988 they have been bypassed by most of the summer traffic heading for coastal Devon and Cornwall.† They nevertheless make an outstanding region for walking and exploring, and of all the protected areas in Britain (Exmoor is one of Englandís original National Parks and the Quantocks and North Devon Coast are designated as Areas of Outstanding Natural Beauty) they have some of the most varied countryside.
The Exmoor landscape is less stark and more diverse than the granite uplands that are characteristic of Devon and Cornwall.† High moors, deep wooded combes, a dramatic coastline, rolling pasture, babbling streams, lichen-clad and moss-draped Atlantic rainforest, picture-postcard villages and even two sizeable lakes (albeit man-made) are all within a short distance of each other.† This is prime walking country: there are enough paths, lanes, tracks and bridleways, nearly a thousand miles in all, to keep the most dedicated hiker busy for several months.† There are no mountains and only a few rocky crags and outcrops, but the attraction is in the variation between open moors and dense woodland, secluded hamlets and bustling villages, deep combes and towering cliffs - including one of the most exhilarating and challenging sections of the South West Coast Path.
This site aims to take the visitor (or the local who hasnít explored the area on foot) to the iconic and the less well-known places of Exmoor, the Quantocks and the North Devon Coast.† There are 100 main walks, varying from easy 4- or 5-mile routes around locations such Bampton, Parracombe and Clatworthy Reservoir, to more strenuous 10-12+ mile hikes over the moors, down river valleys and along the coast.† Many of the walks have shorter or longer variations, so if you don't want to do a full day walk there are plenty of gentler routes that delve into the depths of the countryside.† On the other hand, routes can be linked together to make energetic dawn-to-dusk hikes for long summer days, or multiple-day routes making use of the many accommodation options in the region.
► Map of the Exmoor and Quantocks region with links to walks
<![if !vml]>

<![endif]><![if !vml]>

<![endif]><![if !vml]>

<![endif]>
All text, photographs and maps © Stan Lester 2023