The Quantock Hills
<![if !vml]>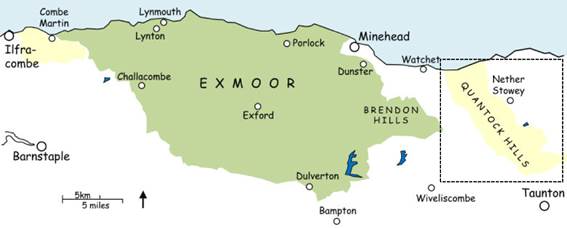 <![endif]>
The Quantock Hills make up a self-contained area of upland, designated as an Area of Outstanding Natural Beauty, stretching from the coast nearly to Taunton.† The uplands are generally well-defined, fading gradually to the coast and in the south into the Taunton Vale.† Only two roads cross the hills and the villages nestle into their edges.† Easier walks follow the ridges and combes; harder ones cut across them.††
Click the walk name to download the route.† Read the walk safety information, and click for a key to the symbols used on the sketch maps in the instructions.
90 Kilve to Watchet †♦♦! 6.6 mile linear, weekday bus connection
91 Kilve and the north Quantock coast †♦♦♦ 10.2 mile circular
92 Holford and West Quantoxhead †♦♦ 7.5 mile circular
93 Nether Stowey, Dowsborough and Withymanís Pool †♦♦♦ 7.8 mile circular
94 The central Quantock woods and combes †♦♦♦ 8.6 mile circular
95 Triscombe, West Bagborough and Wills Neck †♦♦ 4.7 mile circular
96 Aisholt, Hawkridge Reservoir and Lydeard Hill †♦♦ 6.8 mile circular
97 Kingston St Mary to Bicknoller †♦♦♦ 11.3 mile linear, weekday bus connection
98 Fyne Court, Ruborough Camp and Cothelstone Hill †♦♦♦ 8.9 mile circular
99 Fyne Court and Kingston St Mary †♦♦† 6 mile circular
100 Kingston, Cheddon and West Monkton †♦♦♦ 9.6 mile circular
The Herepath - some information about the Exmoor Herepath (Saxon military road) and two suggested walking routes.
There are some long-term path closures and diversions in the Fyne Court area, where the National Trust is managing trees affected by ash dieback.† Please check the NT ash dieback web page for details.
<![if !vml]>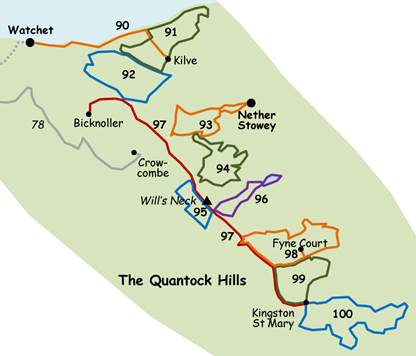 <![endif]>
All text, photographs and maps © Stan Lester 2023